Doing Nothing is an Art we encourage you to perfect. Not that there's a lack of things to do, but it's your state of mind when doing them. Its a lot of work.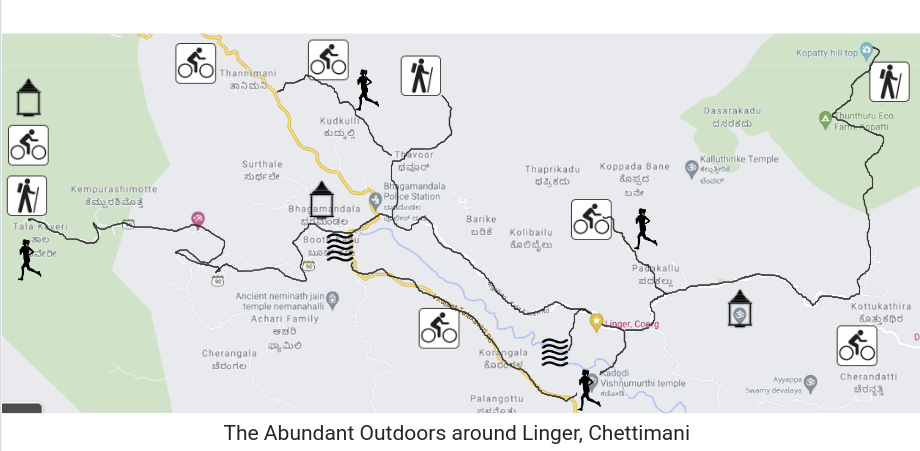 Walk to the Cauvery Thats just a few minutes away!
Finish a book After all, you used to finish one a day at one time, didn't you ?
Learn a little Kodava You must, you're in Kodagu.
Cook a Coorgi meal We have cookbooks and our expert to help you with this.
Do a trek Simple ones. Long ones. Even drive and climb up Tadiyanmol!
Birdwatch. There are over a dozen varieties easily spotted, and a lovely spot within a few minutes walk.
Play Scrabble And other board games.
Ok. Chill. The idea is to essentially just relax. Linger.
Some of us would be happy pottering about – a stroll here, a coffee there and a book finished in an afternoon. For others, the roads beckon – on cycles, or bikes, or cars. Coorg needs no excuse to just drive/ride around, but sometimes it helps to "go see places". Here's some:
The Bhagamandala Temple : 4.5 kms from The Linger Farm. The inner sanctum is really old (late 17th century) and there's a Namboodiri priest dressed in whites who, if he happens to be around and interact with you, will give you a quick lesson in history, mythology and spirituality.
Talacauvery : A 9 km climb up a hill from Bhagamandala. The holy Cauvery originates here as a spring – now with a "kund" created with a temple around it. Its a calm, serene place with stunning views, or, alternatively, mist that keeps rolling in and out of the place. Do the climb (up steps) up to the peak from where the Brahmagiri Hills can be seen in all their glory.
Nalakanad Palace : About 40kms This was the King's secret hideaway and is a relatively modern building, but well preserved. The drive up there through Kakkabe is in itself worth the trip.
Igguthappa Temple : 35kms or so. An old temple done in the Kerala style. It was renovated in the 18th century, but is probably much older.
Chelavara Falls
Madikeri : About 30kms. The Raja's Seat, The Fort, and the Abbey Falls about 11kms out of town are worth a once-over.
Bekal Fort : 90kms. This is in Kerala – and you get there via some thick forest and pretty terrain.
The "Scenic Drive" : This is a secret we discovered. A 17km drive through a lush, narrow road – feels totally like being lost in the middle of nowhere. Ask us about it.